The unit of government established to provide services in rural areas is called a town.
Wisconsin's town government is unique. Ours is the only state outside New England to have a town government--neighboring states have township governments. Under town government, there is an annual town meeting at which town residents can directly influence the policy of their town government by voting on the issues, including tax levies and the purchase of land.
The Town of River Falls was organized in 1854 as Greenwood Township, in honor of Clark Green and Captain Joseph Wood, who had arrived in 1853. The name was changed in 1858 because a town so named existed elsewhere in the state.
The good prairie soils and proximity to the forest and rivers attracted early settlers.
They grew wheat, shipping 19,800 bushels of it down the Mississippi from Prescott in 1860.
Later, dairying became the primary type of farming in the Town of River Falls.
---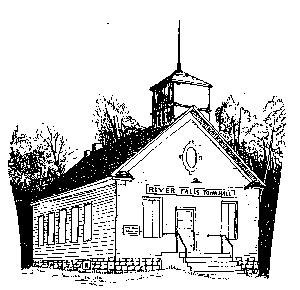 The decisions and discussions having an effect on town business take place at board meetings or in the various town committees.
The board appoints committee members. Volunteers are welcome as openings occur. Notice of meeting times and dates appears in the River Falls Journal. Copies of town ordinances are available on town website or from the Town Clerk (715) 425-7373.